Deprecated
: preg_replace(): The /e modifier is deprecated, use preg_replace_callback instead in
/homepages/u37107/www.sebastian-kirsch.org/moebius/blog/wp-includes/functions-formatting.php
on line
76
I have been in the US for a week now – time for a short status report.
Work-wise, the week has been rather uneventful. Lots of classes and talks to attend, and too little time in between to get started with my projects. I have gotten into the (bad?) habit of turning up at work at about nine in the morning, have breakfast while sitting outside in the sun (as long as it is still warm enough to do that) and checking my emails and my calendar – and combined with having lunch at the company and staying for dinner this means that I usually get home between eight and nine. I have not been very social either for the whole week, but I mainly attribute this to a) working too long, b) having to drive from the company back home, and c) there being no bars within walking distance. (The closest bars are about 1.5 miles away.)
On Saturday, I went to San Francisco for a first look. I did what I usually do when I come to a new city: I skip all the tourist attractions and just wander around more or less aimlessly. In this case, my itinerary looked like this; I must have covered about 10km on that day: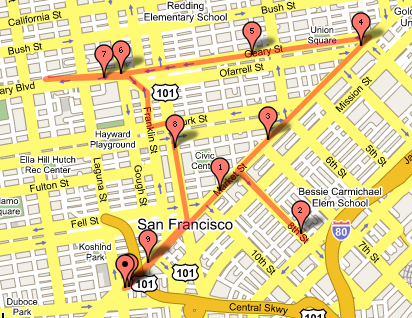 I parked my car near the freeway entrance on Market St, then walked up Market St, down 8th St, back up again, and further towards downtown. In downtown, I stopped for a coffee and a croissant at a nice little crêpe place, before wandering through Macy's and shopping a little. (Short rant: I am unable to find good underwear at the moment. My favourite is Burlington, which proves unable to find. I bought some Polo trunks at Macy's, but as far as comfort is concerned, Burlington still winds hands down. End rant.)
I then climbed the hill to Japantown, where I spent some time browsing the shops, buying a couple of cards, a CD I'd been looking for for years (Blue Submarine OST Part 1, by The Thrill), and a maneki neko. The origami book selection at Kinokuniya is very impressive, and I had to restrain myself from spending an inordinate amount of money on books that I will probably not use. And anyway – I'm staying here for another three months, SF is just 45 minutes away, and I can always go there again. I did miss the most interesting shop – Paper Tree, the origami shop. I didn't notice them until after their closing time, since they are tucked away in street off the main mall.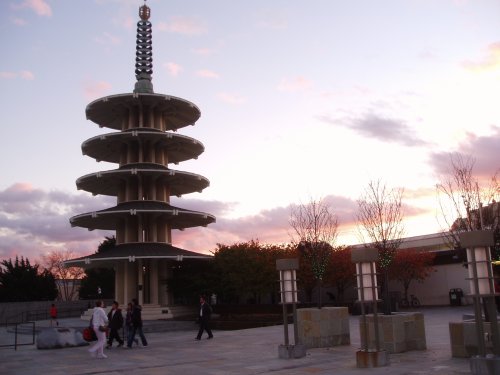 In the evening, I went to Castro to go clubbing with a friend. Both of us have not been in the area for long (him for two weeks, me for one week), so the objective was to find out what there is on Castro for further expeditions. We started with Badlands, which was rather too stereotypically gay, hot and crowded for our tastes. We dropped into the Midnight Sun before going to The Café, where we stayed for the rest of the night (until closing time at 2am). A nice thing about the Café – I guess – is its diverse clientele: It has gays, lesbians, straight people, guys dancing with guys, guys dancing with girls, girls dancing with girls – and nobody seems to care.
Comments Off