Deprecated
: preg_replace(): The /e modifier is deprecated, use preg_replace_callback instead in
/homepages/u37107/www.sebastian-kirsch.org/moebius/blog/wp-includes/functions-formatting.php
on line
76
Yesterday, I arrived in Mountain View, CA, for my training on board the mothership. I got up at four in the morning to catch my plane, flying via London Heathrow to San Francisco International airport, arriving at 13:30 – pacific time. By the time I arrived at my hotel in Mountain View, I had already been up for about 20 hours, having slept about four hours the night before.
Of course, I couldn't resist trying out the hotel's internet connection. When I remarked on IRC that I was staying on El Camino Real, an occasional chat friend piped up, saying "Oh, so you're just down the road from me" – it turned out that he had just moved from Cambridge (England, not Massachusetts) to Palo Alto for his post-doc at Stanford a week earlier!
So we arranged to have dinner on University Ave in Palo Alto later that evening (Kan Zeman; I had the manssaf, a lamb shank on rice and bread, which was very good.) And afterwards, well, the evening was still young, so we went to San Francisco for a quick walk through Castro and a drink. I finally went to bed at about 12:30, having successfully avoided going to bed early and thereby increasing my jet lag. How's that for the first day in the US – meeting a nice guy from IRC for the first time, have a nice dinner and then even see a first glimpse of San Francisco? I think it's pretty damn great.
I got up at about nine this morning, and after breakfast, some phone calls and extended lallygagging, I finally hit the road, going to Palo Alto for some walking around, (window) shopping, a coffee etc. I parked my car on California Ave, which was the first daft idea of the day: I thought I'd just walk over to University Ave once I'd seen California Ave. What looked like a short distance on the map took me about 50 minutes. I decided to take the CalTrain on the way back.
The second daft idea of the day was deciding on a lark to drive over to Pescadero to seet the sunset over the pacific ocean. Now, there is a direct road down to Pescadero (Page Mills Road), and the distance is about 35km, which would have been doable, even though the sun was already sinking. The problem was that this road is even more windy than it looks on the map – it's very narrow, has lots of hairpin curves, and it's hard to do even 20mph on it. After about 40 minutes on the road, I got my first clear view west, decided that all those clouds into which the sun was slowly sinking must be where the pacific ocean should be – and decided that it probably wouldn't be worth it to go any further. I snapped a few pictures of the sunset and made my way back, stopping a few times to take further pics of the lights of the peninsula with a magnificent full moon above them.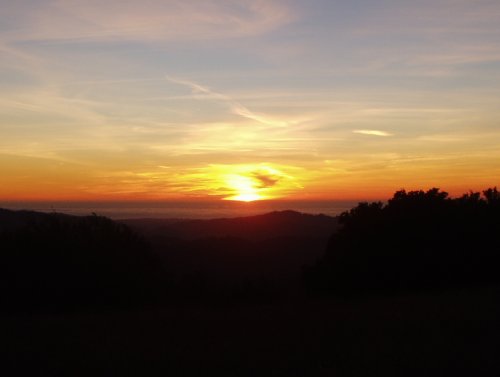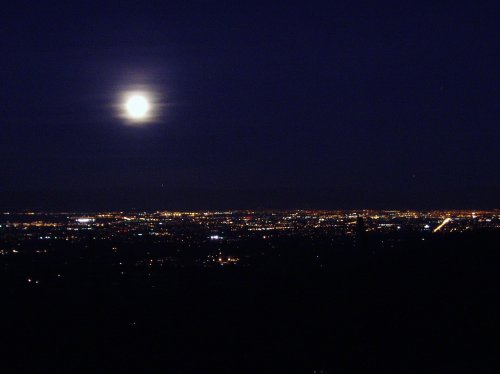 Comments Off