Deprecated
: preg_replace(): The /e modifier is deprecated, use preg_replace_callback instead in
/homepages/u37107/www.sebastian-kirsch.org/moebius/blog/wp-includes/functions-formatting.php
on line
76
The Porterhouse just celebrated their very own Oktoberfest, and for a German recently arrived in Dublin, this is an interesting take on the subject. They distribute a "beer pass" at the the pub which is wrong on just so many levels: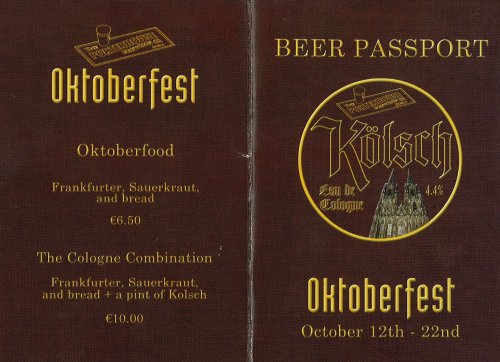 Oktoberfest is celebrated in September, not in October, and has been for many, many years.
Kolsch has about as much to do with Oktoberfest as … two things that have very little to do with each other. Kolsch is drunk in Rhineland, Oktoberfest takes place in Bavaria. On, and, by the way, it's written "Kölsch".
Frankfurter, Sauerkraut and bread are not a specialty of Cologne. Try Halver Hahn next time, or Himmel unn Ääd. (It's not a specialty of Bavaria either.)
You don't drink Kölsch from pint glasses. Kölsch is served in 0.2l glasses.
And most importantly, if you brew it locally, it is not Kölsch. Kölsch is only brewed in breweries that have aline of sight with the dome of Cologne. Do you see the dome from the top of the Porterhouse? No? Then it's not Kölsch. (Which is, by the way, a protected designation of origin. So "Porterhouse Kölsch" is not only wrong, it's also illegal.
You wouldn't want to be drinking Eau de Cologne either. Even though it does have a very high alcohol content (70-90%), the 2-5% essential oils would spoil the taste. And it's not brewed according to the Reinheitsgebot.
This is how they describe their "Kolsch":
Comments Off