Pyramids, designed by Sebastian Kirsch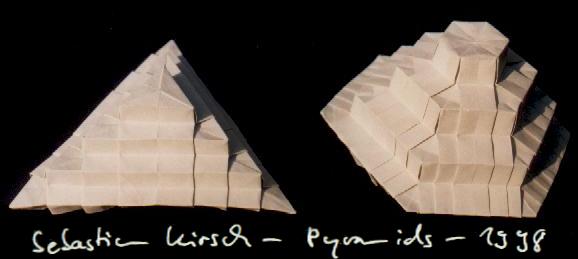 - This model was designed by Sebastian Kirsch; the rendition in the photograph was folded by Sebastian Kirsch. -
folded from an equilateral triangle and a hexagon.
I have seen these pyramids made from a square by Maarten van Gelder and by Vincent Floderer; I merely realized that they can be made from other paper formats as well.
I've also tried to make a pentagonal pyramid with 17 steps, but unfortunately, it turned out to be too much for me.
---
Copyright © 1999--2004 Sebastian Marius Kirsch
webmaster@sebastian-kirsch.org
, all rights reserved.
Id: SKirsch-Pyramids.wml,v 1.2 2001/04/17 19:58:45 skirsch Exp