Camel, designed by John Montroll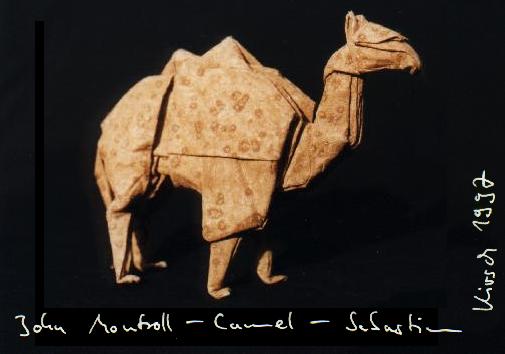 - This model was designed by John Montroll; the rendition in the photograph was folded by Sebastian Kirsch. -
folded from a 30 cm square of foil-backed mulberry paper.
I achieved the mottled effect by painting the mulberry paper with paste mixed with paint, and them sprinkling coarse salt crystals on the paint while it was still wet.
diagrams from
John Montroll:
Origami Sculptures.
Maryland: Antroll, second edition1989.
ISBN 1-877656-02-X.
---
Copyright © 1999--2004 Sebastian Marius Kirsch
webmaster@sebastian-kirsch.org
, all rights reserved.
Id: JMontroll-Camel.wml,v 1.2 2001/04/17 19:58:45 skirsch Exp